About "The Spider Collection at the Staatliches Museum für Naturkunde Stuttgart"
The Collection
The spider collection of the Staatliches Museum für Naturkunde Stuttgart (SMNS) contained some 3500 vials with specimens, mainly from Europe and with 207 type specimens from Strand, Bösenberg, Keyserling, and L. Koch. Unfortunately this collection was completely destroyed during a bombing raid in world war II. Due to the lack of an arachnologist at the SMNS there was no replacement collection built up not till the trainee Franz Renner started such a project in the 1980s. Meanwhile this initial collection was enlarged by several research projects like GBOL (German Barcode of Life, funded by the BMBF) and collecting activities of Dr. Joachim Holstein.
The collection comprises some 2,900 vials of 600 species from Central and southern Europe and a number of further species from the rest of the World, mainly Africa.
Data Project and Service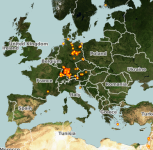 The first data package migrated to and made available through Diversity Workbench is the Renner collection and the spiders collected within the GBOL project. The inclusion of the rest of the spider collection (several smaller projects and the Holstein collection) is in progress. Taxonomy generally follows The World Spider Catalog by Norman I. Platnick. The collection and the datasets are maintained and expanded by Dr. Joachim Holstein. Notices of errors of any kind are much appreciated by the editorial staff.
The Ministry for Science, Research and the Arts in Baden-Württemberg supported inventory, digitalisation and online access of the collections. Technical support is provided by the IT Center of the Staatliche Naturwissenschaftliche Sammlungen Bayerns within the projects BiNHum (Biodiversity Network of the Humboldt-Ring) and GFBio (German Federation for the Curation of Biological Data), both funded by the German Research Foundation DFG.
The Database "The Spider Collection at the Staatliches Museum für Naturkunde Stuttgart" and – if not stated otherwise – its supporting files have been copyrighted © 2014–2023 by the Staatliches Museum für Naturkunde Stuttgart.