Maintenance - Accession number duplicates
The database will warn but not prevent you from entering an accession number several times e.g. via an import. In the main form a duplicate accession number is indicated with a red background. To check for duplicate accession numbers choose Administration - Maintenance from the menu. In the window that will open, choose the tab page

Specimen as shown below. You can restrict the query to a project or leave the project empty in order to compare with all the available projects. For a restriction to certain numbers you may enter a filter (using wildcards, see below). To start the query click on the Check for duplicates

button.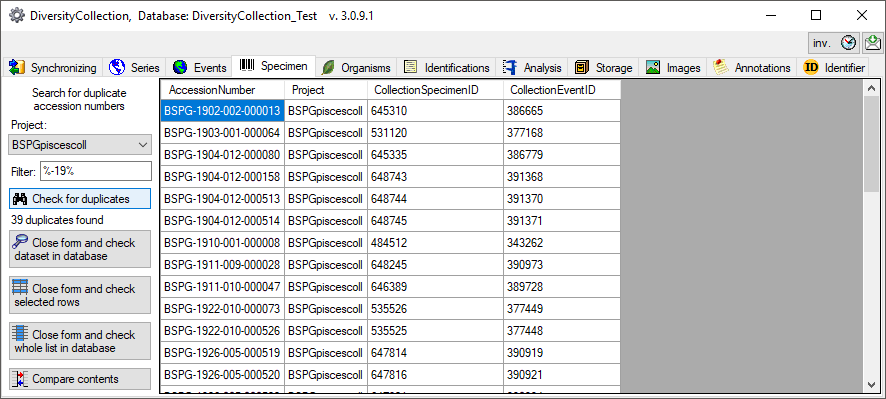 The form will list all duplicates found as shown above. To switch to a data set in the database select it in the table and click on the Close form and check dataset in database

button. To see only the selected rows, click on the Close form and check selected rows

. To list all duplicates in the main form click on the Close form and check whole list in database

. To compare the contents of duplicates, select the duplicate in the list and click on the

button. A window as shown below will open. All tables containing the data of the duplicates will be shown.

Use the
button to optimize the width of the columns. The columns in the tables are marked with different colors as shown in the image above. For the comparison of the data key columns will be ignored unless you choose the option Compare text key columns. To restrict the displayed tables and columns to those with differences, choose the Restrict to differences option (see below). In the window for comparing the data, editing is not possible, but you can open another client and edit the duplicated data. To show changes in the data performed e.g. in a second client, click on the
button.