Database
The database for DiversityExsiccataeis based on Microsoft SQL-Server 2000.To access the database, you must specify the server where the database is located. For the configuration of this connection choose Connection, Server...
Database name, IP-address and Port
A dialog will open, where you can specify the name or IP-adress and port number of the server and the authentication mode.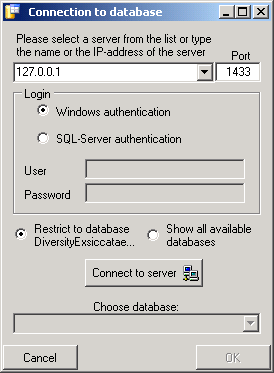 The standard port number for SQL-Server is 1433 and will be set as a default (see left image above). If the database server is configured using a port different from that port, you must give the port number in the field Port. You can either search all available databases on the server or restrict to databases of DiversityExsiccatae. Click on the

button to connect to the server. If the connection informations are valid, you can than choose from the databases listed in the combobox as shown below.

In the main form you can select the databases that are available under Connection, Database...
If you access a database for the first time you will be asked to consent to the storage and processing of your personal data (see below) according to the General Data Protection Regulation. Without your consent the access is not possible.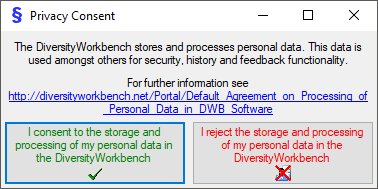 Organisation of the data
The main data are kept in the table Exsiccata. Editors are listed in the table ExsiccataEditor, examples in the table ExsiccataExample and geographicla regions in the table ExsiccataRegion.